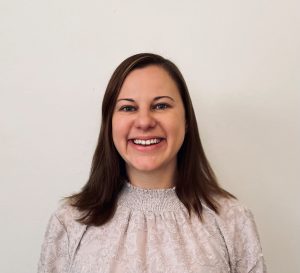 Melinda Rixon is Manager for Safeguarding at Catholic Schools Broken Bay where she currently leads a team of 3 staff in our school support office. Her expertise comes across from safeguarding work, both within Chancery and CatholicCare teams. Also a mum, Melinda has 2 primary school-aged children herself and is passionate about keeping kids safe.
What is your role and who does it serve?
I am the Manager for Safeguarding, and my role leads the Safeguarding team, and together we provide support and guidance to staff, families and students in safeguarding. We aim to promote a shared responsibility of ensuring our students are in environments where they are safe to learn and flourish.
What brought you to do this work?
When I finished University I wasn't sure where my degree would lead me. The first role I held at CatholicCare Broken Bay was in Residential Care, a role with young people under the care of the minister. This role taught me as much about myself as it did about the needs of children and young people that had a trauma past. From here I moved into an early intervention role in working with young people and families. I most recently held the roles of Safeguarding Manager at CatholicCare, and the Chancery, and now at Catholic Schools Broken Bay.
What motivates you?
Helping others! I have always been motivated by assisting others to succeed or improve their lives. I am very passionate about child safety and upholding child rights. I believe that we all play a really important role in protecting and advocating for the next generation.
What does Safeguarding mean to you?
Safeguarding is the proactive actions that we take to ensure that environments are safe for all people. Safeguarding is where children, young people and vulnerable adults feel safe to speak up, safe to ask for help and know that they will be listened to, believed, and protected.
How does your work make a difference?
By contributing to a safeguarding culture, we are setting up successful environments for students to feel empowered, and safe. By promoting a shared culture of safeguarding we are modelling and promoting practices that will help students in their education journey and influence the next generation.
These practices help to prevent abuse occurring. For those who may have suffered in the past, our team is a safe space to listen and respond and in doing so we hope to provide a space of healing.
Why is family important to you?
Family is the foundation and making of who you are – your identity. Every family is unique and brings its own strengths and traditions. I feel grateful for both the family I was brought up in and for my family today. Parenting is a really tough job, and there is no manual on how to do it correctly. What I do know is that finding support makes it easier, whatever that may look like for you.
Why is 'family' an important topic for Safeguarding Month?
Building connections in your family strengthens relationships so in tough times you have each other to help you through. Feeling connected to each other increases your sense of identity and safety. Building relationships in communities can assist families, networks and connections.
There are times when families don't offer a safe place for children to live, and safeguarding role, like many others in CSBB, is to advocate in these times and report to Child Protection as the agency to intervene if necessary. There are many ways to support families before it gets to this point, early intervention support services are offered through CatholicCare.
Thank you to Melinda, for sharing your vast experience and expertise with CSBB. We are lucky and grateful to have such knowledge and passion within our Safeguarding Team!