OVERVIEW
SCHOOL PRINCIPAL
Marco Ianni
Our Lady of Dolours Catholic School is located in the bustling heart of Chatswood on Sydney's leafy North Shore.
Our school was established over a hundred years ago and has a long and proud history.  Being a relatively small and diverse school community of approximately 300 students, we know our children and their families well.
Our school is a primary school providing an excellent education for both boys and girls from Kindergarten to Year 6. Catholic beliefs and values underline our curriculum and are a guide for all we do throughout the school.
We strive to make a difference as a community by embracing and celebrating the uniqueness, creativity and achievements of each individual.
Our core task is education. Our highly qualified teachers are committed to ongoing professional learning, which is imperative for learning and teaching in the 21st century.
Information technology is an integral part of the school day for all students. We have Interactive White Boards in every classroom as well as computers. The recent introduction of  iPads into the classroom has added to our growing technological resources.
Together we build a warm and welcoming community as we help our children to learn and to grow to be their best.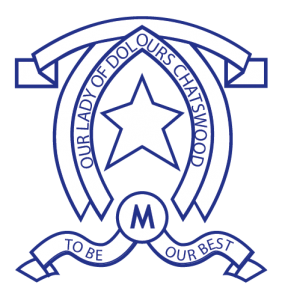 Our Lady of Dolours Catholic School
94A Archer Street, Chatswood NSW 2067, Australia