OVERVIEW

SCHOOL PRINCIPAL
Lorraine Vincent
St Kevin's Catholic School is a co-educational school for children from Kindergarten to Year 6, centrally located in the heart of Dee Why between the local shopping district and Dee Why beach. The school belongs to the Diocese of Broken Bay and is part of the Parish of Warringah. A strong commitment to quality teaching and learning is supported by a dedicated, professional staff who provide a positive learning environment for all students.
St Kevin's is an active learning community where children, staff and parents embrace our motto, United in Love, in our interactions with each other and with the wider community. Our effective Pastoral Care and student leadership programs provide for high quality, interpersonal relationships as well as school rules which make for safe, responsible, respectful and proud learners.
Our school features an up to date technological infrastructure enabling connected learning in classrooms, which are equipped with computers, iPads, data projectors and interactive white boards. Our playground features large undercover areas including all weather outdoors play areas and play equipment.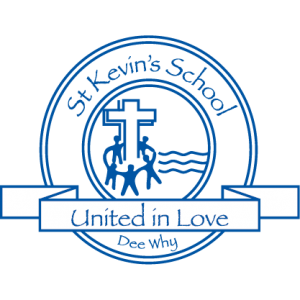 St Kevin's Catholic School
57-59 Oaks Avenue, Dee Why NSW 2099, Australia