OVERVIEW

SCHOOL PRINCIPAL
Anthony Gleeson
St Leo's Catholic College, Wahroonga is a comprehensive, co-educational Year 7 to Year 12 systemic college within the Diocese of Broken Bay.
Our aim is to provide an excellent academic education in the Catholic tradition. An education at St Leo's will inform, challenge, encourage and engage each student and promote the Catholic values of integrity, hope, dignity, respect and justice in every aspect of school life.
Our school population is around 950 students,  small enough to care for individual students yet large enough to offer an extensive range of subjects and opportunities for all.
Our mission is to empower each student to become a confident, competent, Catholic young man or woman of conscience. Our staff are experienced, dedicated and professional in their delivery of structured and positive learning experiences both within and beyond the classroom.
At St Leo's our students have the opportunity to interact with a large range of individuals of both sexes, ensuring that they understand that gender is only one of many determinants of identity. Importantly, boys and girls develop good friendships over the years and learn to appreciate each other's strengths, without feeling self-conscious. Recognising how society 'constructs' gender, they learn to discard sexist attitudes and to realise their own individuality within a mixed gender school setting. The importance of "socialisation" as it is reflected in society, is unique to a co-educational environment.
We believe that parents are the first and most important educators of their children. The College strives to work in partnership with parents in developing lifelong learning in our students in a 21st century learning environment.  We are proud of the positive relationships that exist amongst our staff, students, local parishes and the wider community.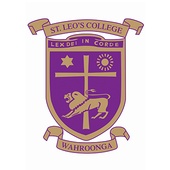 St Leo's Catholic College
16 Woolcott Avenue, Wahroonga NSW 2076, Australia