OVERVIEW

SCHOOL PRINCIPAL
Todd Vane-Tempest
St Patrick's Catholic School Asquith is a small and personal Catholic community where a spirit of love, support and care is central to our identity. Parents and students are most welcoming and our staff professionalism, knowledge and dedication is outstanding.
Our K to 6 co-educational school is located in the Broken Bay Diocese on Sydney's upper north shore and, with St Bernard's Catholic School Berowra, forms part of the Ku-ring-gai Chase Catholic Parish. Students are predominately drawn from the local areas of Asquith, Hornsby Heights, Hornsby and Mt Colah.
Our school enjoys an excellent reputation as a community of high quality learning and teaching where students are encouraged to take responsibility for their own learning in an environment of support, nurture and partnership with parents. As we believe each student is unique, we also work towards establishing teaching practices that address the diverse characteristics of each child.
We do not however merely measure our success in purely academic terms. Learning in our community is characterised by nurturing growth and development of the whole child. We strive to model gospel values for our children and all who make up our community so that each may come to appreciate Jesus as the foundation of those values.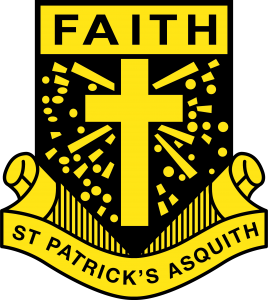 St Patrick's Catholic School
Royston Parade, Asquith NSW 2077, Australia