Kiera Austin, a Mercy College alumna from the class of 2015, has achieved great success both as an athlete and in her academic pursuits. Currently playing netball for the Australian National Team, the Diamonds, she talks about her passion for the sport, challenges she faces as an athlete and mental preparation for big games. She also shares on some of her setbacks, injuries, and where school life influenced her netball career and personal growth.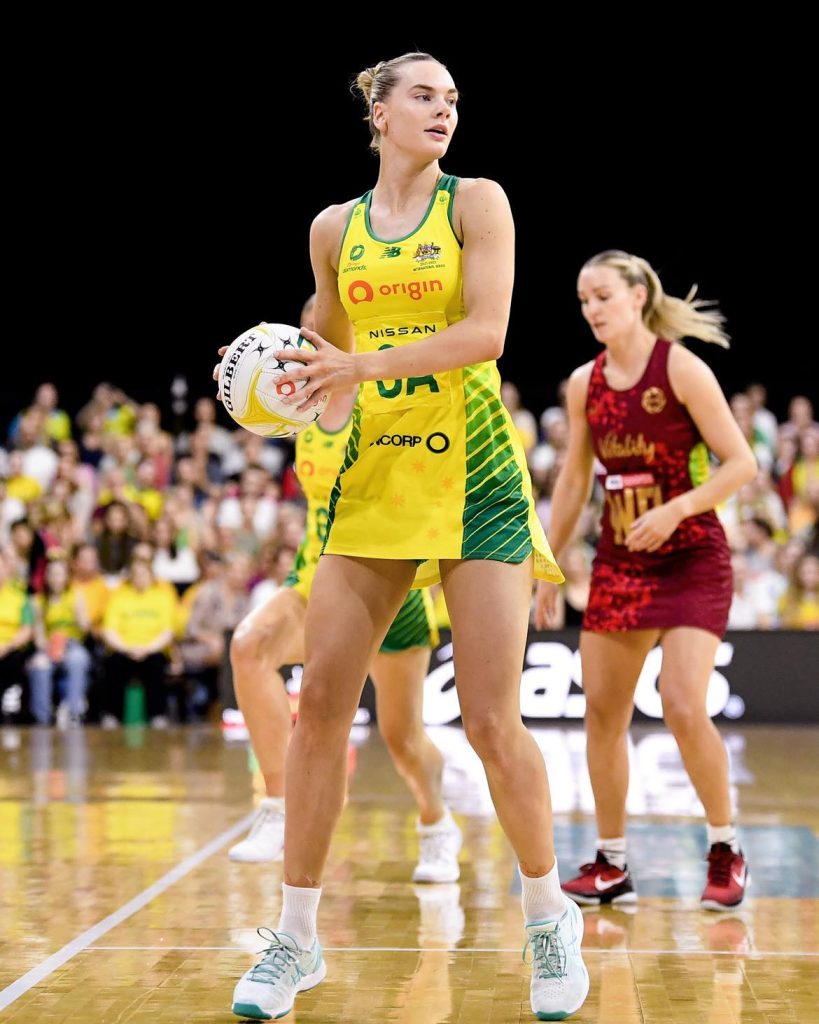 What inspired you to become a netballer, and how did you get started in the sport?
I started playing netball when I was 6 years old. I wanted to do whatever my older sister was doing! I didn't know it was something I could do for a living at that age but the more I played, the more I wanted to keep going. It taught me about determination, competitiveness, passion – it also taught me very quickly how to manage my time well!
What's your favourite thing about playing netball?
I love the girls that I get to play with. We have all sacrificed a lot to get where we are so we share very similar values and work ethic. There is also nothing better than playing in front of a huge crowd that is cheering for you and winning in a tight do or die match – you can't even hear yourself think with how loud it gets sometimes.
What's the most challenging part of being a netball player?
Definitely life balance! We train very hard during the week for several hours, so it is quite taxing on the body. Balancing fatigue levels with having to do day to day life can be challenging. A lot of us work outside of netball as well as study. I'm finishing off my Medical Science degree which I started in 2017… so safe to say it does take a while but can be done.
How do you mentally prepare for a big game or tournament?
Not overthink it! If I play that afternoon, I will have a quiet day and just do small things that I like to do – go for a walk and get a coffee, go to the markets, read… anything that takes my mind off the game.
Who is your biggest inspiration in the sport of netball, and why?
All of the women that have gone before me! It is hard to pinpoint one player – netball has grown so much in the past few years and it's always been left in a better place by the women that have played before us. We still have such a long way to go to be recognised in the same light as male players in other sporting codes, but we are definitely on the journey.
What's the most memorable game or tournament you've ever played in?
Definitely the Commonwealth Games tournament. I ruptured my ACL the year prior – so I was doing everything possible to get back and play in time to be selected. Getting that phone call saying I had made the team was one of my proudest moments. The team I played in was incredible and we ended up winning the Grand Final in front of an English crowd (whom we knocked out of the gold medal match). Our small pocket of family and friends were going ballistic for us and now I will always be a Commonwealth Games Gold Medallist – doesn't get much better!
What is it like to be able to play on the Australian Netball team?
To play with the Australian National Team still blows my mind! The Diamonds are the pinnacle high performing team in netball and every time I go to camp and play at that level is a pinch me moment – we are a very competitive bunch so camps are always very intense.
What's your favourite netball drill or exercise for improving your skills?
I'm an attacking player, but whenever we work on defensive skills I love it – maybe because it is different to what we would normally do as attackers, but getting an intercept or gaining the ball during a game as an attacker is the best.
How do you stay motivated during training and competition, especially when facing setbacks or injuries?
I had a year off of the sport after rupturing my ACL and it was incredibly hard mentally. I had never had such a major injury, but I found ways to use the time to my advantage. I did 3 units at university and received some of the best marks since starting studying. It also gave me time to choose when to train, so having flexibility in my schedule was different. I believe there is always a silver lining to setbacks and injuries – they are sometimes hard to see but it makes you appreciate the end goal or the successes so much more.
Did your school provide any unique opportunities or experiences that helped you grow as both a netball player and a person, and how do you think those experiences influenced your future success in the sport?
They were very understanding of my netball commitments and always tried to help with assignments/classes wherever they could. Surprisingly, playing high level sport from a young age taught me time management skills very well so I always had my homework/assignments ready on time. They did allow me to go to a competition during my Year 12 trial exams and let me fit them in when I got back! I was Vice Captain in Year 12 with one of my best friends as School Captain – so they definitely provided me with opportunities to develop my leadership skills as well.
Did your school provide any unique opportunities that helped you develop your netball skills?
I represented NSWCCC in a few competitions during my early years of high school.
Did any specific teachers or coaches at your school have a particularly significant impact on your netball career?
All of my teachers were great at understanding my commitments, but I also never let netball be an excuse to not study. I loved learning but if I ever was struggling with the school workload I would let my teachers know and they would help me after class or over emails. I bumped into my old economics teacher and her daughter at a coaching clinic a few years back and she was so happy to see how far netball had taken me!
What advice would you give to someone who wants to become a successful netball player?
It sounds cliche, but make sure you are always enjoying yourself and having fun when you play! Also be open to changing positions or trying what a coach tells you. I only became a GA when I was 15 and played C before. I didn't want to shoot but I wouldn't be where I am today if I didn't try it.