Nicole is an accomplished athlete and scholar who has pursued her passion for basketball both in Australia and in the United States. With a strong foundation in Catholic education and a drive to push herself to be the best, Nicole has developed into a successful semi-professional basketball player and is working towards becoming a Clinical and Research Psychologist. Her experiences on and off the court have shaped her into the person she is today, constantly striving for growth and development.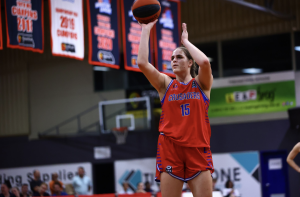 Which Catholic school did you attend, and what impact did it have on your life and education?
I attended St Bernard's Catholic Primary School in Berowra. Attending St Bernard's taught me a set of values that I carry with me and appreciate to this day. I was already very tall as a young child and St. Bernard's helped me develop my resilience, compassion and perseverance.
How did you first become interested in basketball, and what made you stick with it?
Basketball was a sport that I first tried in primary school. It was something I started playing to try and fit in and just to meet people who were similar to me, people tall like me, and I ended up loving it. The joy felt playing basketball turned into a lifelong passion.
Who or what inspired you to pursue basketball as a serious passion or career, and how did that inspiration shape your development as a player?
Many great women in this game before me were incredible in showing me that playing was an option, and I had amazing coaches assisting me along the way, but I can't really look to one person that inspired me to pursue basketball. I just had a drive to keep pushing myself and see how far I could go, I still do. That's why I develop. I am constantly working at and striving to be better.
What was it like to have the opportunity to play basketball in the US, and how did that experience compare to playing in Australia?
Playing in the US was an inexplicable experience. I was in an environment where basketball was the number one priority, training hours every day, in the gym and on the court to get stronger. It's such an extremely condensed environment, that you go through an incredible amount of growth, on and off the court.
What college did you attend in the US, and how did your time there shape your personal and professional growth?
I attended the University of New Orleans and Texas A&M University. Playing overseas opened my perspective to different cultures and experiences outside of Australia. It also opened my eyes to hardships others faced and overcame to reach their goals.
In addition to basketball, what other subjects or areas of study did you explore while in college, and how did they inform your worldview?
I was a student-athlete on a full scholarship at college in America, studying psychology. On my return to Australia, I continued my studies and am currently doing honours in my final year at Macquarie University. I am working towards becoming a clinical psychologist and eventually a research psychologist.
Looking back on your experience playing basketball and attending college in the US, what stands out as the best or most memorable part of that time in your life?
The most memorable part for me was the feeling of hustle. Spending every minute eating, sleeping and breathing your passion. Striving to be better every day.
If you could give advice to your younger self about pursuing basketball or education, what would it be and why?
Don't give up and don't listen to others who are distractors. Listen to your passion, leaders and learn what's best for you.
What are you up to now, and how have the lessons and experiences from your past shaped your current pursuits and goals?
I am currently playing semi-professional basketball for the Central Coast Crusaders in NBL1. My past experiences, past coaches, past teammates and my family have shaped the player and person that I currently have the privilege of being.