Alumni Student from St John's Freshwater and St Paul's Manly, Joel Davies made his official debut with the Sydney Thunder in their match against the Scorchers in Perth Wednesday 4th January. Joining older brother Ollie who is already an established batsman with the team, the Northern Beaches brothers were an integral part of the Thunder's victory with Joel's incredible fielding skills and Ollie's strong performance with the bat.
Joel Davies set the recent under-19 National Championships in Adelaide alight as he captained NSW Metro to its fourth title since the state split into Metro and Country. He amassed 458 runs across six matches at a stunning average of 114.5 to finish at the head of the leading run scorer's list.
While he was dismissed for a golden duck in the decider, Davies passed 50 in each of his other five innings, including back-to-back centuries in the qualifying and preliminary finals.
Indeed, his crowning moment was smashing 11 sixes on his way to an unbeaten 185 against the Northern Territory – the same opponents Ollie savaged four years ago when he belted 17 sixes on his way to a double century.
"It's exciting to have Joel here," said Davies ahead of tomorrow night's Sydney Thunder-Brisbane Heat match in Sydney.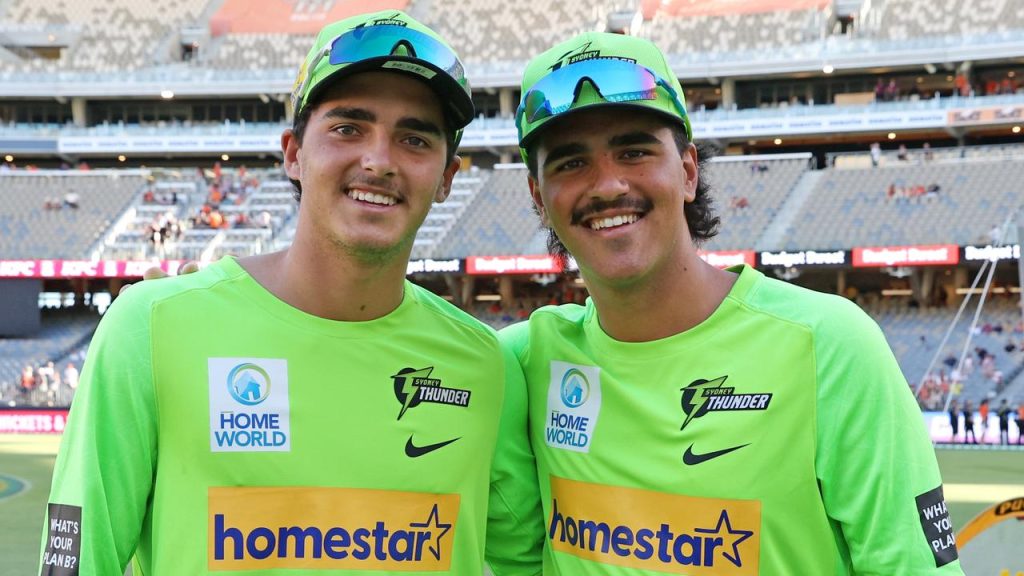 "Initially I thought he might've been tempted to join the Sixers, but I got into his ear about playing for Sydney Thunder. I think he's done enough to earn his spot in the squad after a very good tournament in Adelaide."
"Joel is an energetic guy, and he'll be willing to do anything for the team be it bringing out the drinks, or the behind-the-scenes things that sometimes don't get recognised.
Apart from being the best fielder I've ever seen he can bat and bowl. He brings everything to the table."
However, Davies – who has recorded a BBL strike rate of 144.97 from his 19 matches – said he made a personal appeal for Joel to opt to wear Thunder's green battle colours when he was deciding upon which BBL club to join.
"I simply said to him 'I want you to be with me; you could go to the Sixers, you could go to Thunder but I'm involved in Thunder, and I want you to travel with me and work with me'," said Davies.
However, Davies said he realised during a game of backyard cricket on Boxing Day that just because they're now playing together for Thunder, they're still sibling rivals.
"He was bowling very quick – even though he bowls off-spin – and I was getting scared of being hit by the tennis ball!" laughed proud big brother Ollie.
Head of Thunder Andrew Gilchrist said the club had identified Joel Davies as a priority signing.
"Joel's performances at the under-19 Championships confirmed he was a phenomenal talent, and through Ollie we know he comes from a good family," said Gilchrist. "We're thrilled to have him on our roster."
Meanwhile, Pakistan leg spin bowler Usman Qadir, who was recruited to provide cover for the injured Tanveer Sangha, is in line to make his debut for Sydney Thunder against Brisbane Heat.
Qadir is no stranger to Australian conditions: He played in the 2012 U19 World Cup in Queensland and went on to play grade cricket in Sydney and Adelaide, before he later suited up for both WA and the Perth Scorchers for the 2018-19 season.
Once intending to claim Australian citizenship and forge an international career that way, he impressed in a PM's XI one-day fixture against South Africa in 2018, taking 3-28.
He later returned to Pakistan and abandoned his Australian ambitions at his father's urging, and a call-up for Pakistan followed – coincidentally for a tour of Australia.
Qadir has since played 23 T20s for Pakistan and a solitary ODI, although a thumb injury kept him sidelined as a reserve during the recent T20 World Cup.
Article originally published 26 December by Sydney Thunder