Last night we welcomed over 500 colleagues from Systemic and Congregational Schools, our Clergy, Chancery Staff and Catholic Schools Broken Bay office staff for the Annual Diocesan Staff Mass celebrated by Most Rev Bishop Anthony Randazzo and concelebrated by the clergy of the Diocese.
We came together in a spirit of unity as we aim to inspire hearts and minds to know Christ and to love learning.  We celebrated our new staff and new leaders who were commissioned by Bishop Anthony and recognised staff who have served Catholic Education for an extraordinary number of years (25, 35, 40, 45 and 50 years). We are grateful for the gifts and talents that each and every one of you brings to our schools.
We were privileged to witness a beautiful Acknowledgment of Country, by Michelle Moylan – Learning Partner: Aboriginal Education and three generations of her family.
New Leaders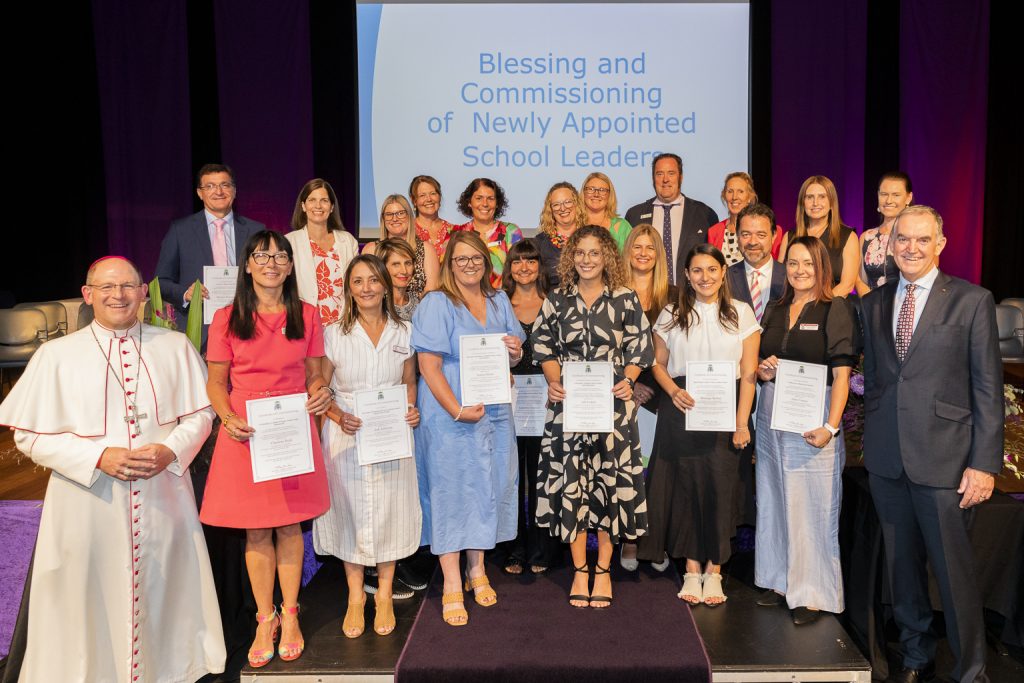 Charlene Reid, Principal, St Brendan's Catholic Primary School, Lake Munmorah
Emma Sellars, Principal, St Mary's Catholic Primary School, Toukley
Jodi Jefferson, Principal, Our Lady of Perpetual Succour Catholic Primary School, West Pymble
Michael Ronchetti, College Principal, St Pius X College, Chatswood
Paola Brannan, Principal, Our Lady of Good Counsel Catholic Primary School, Forestville
Pauline Dinale, Principal, Holy Family Catholic Primary School, Lindfield
Sonia Tannous, Principal, Holy Cross Catholic Primary School, Kincumber
Alexis Conn, Assistant Principal, Our Lady of Good Counsel Catholic Primary School, Forestville
Frank Clarke, Assistant Principal – Evangelisation and Catechesis, Mater Maria Catholic College, Warriewood
Jacqueline Favaloro-Tod, Assistant Principal, St Bernard's Catholic Primary School, Berowra
Jacqui Fletcher, Assistant Principal, St Brendan's Catholic Primary School, Lake Munmorah
Jodie Connor, Assistant Principal, St Edward's College, East Gosford
Monique Berlioz, Assistant Principal, Maria Regina Catholic Primary School, Avalon
Patrick Brennan, Assistant Principal – Evangelisation and Catechesis, St Leo's Catholic College, Wahroonga
Samantha Edwards, Assistant Principal, Holy Family Catholic Primary School, Lindfield
Alli Foskett, Religious Education Coordinator, St Brendan's Catholic Primary School, Lake Munmorah
Colleen Kofron, Leader of Religious Education, St Leo's Catholic College, Wahroonga
Joanne Moore, Religious Education Coordinator, Our Lady of the Rosary Catholic Primary School, The Entrance
Josephine Gradwell, Religious Education Coordinator, St Mary's Catholic Primary School, Manly
Lauren Petroni, Religious Education Coordinator, Our Lady of the Rosary Catholic Primary School, Waitara
Madeleine Cottrell, Religious Education Coordinator, St Bernard's Catholic Primary School, Berowra
Skye Nolan-Brown, Religious Education Coordinator, Sacred Heart Catholic Primary School, Mona Vale
Vincent Knight, Religious Education Coordinator, Prouille Catholic Primary School, Wahroonga
25 years in Catholic Education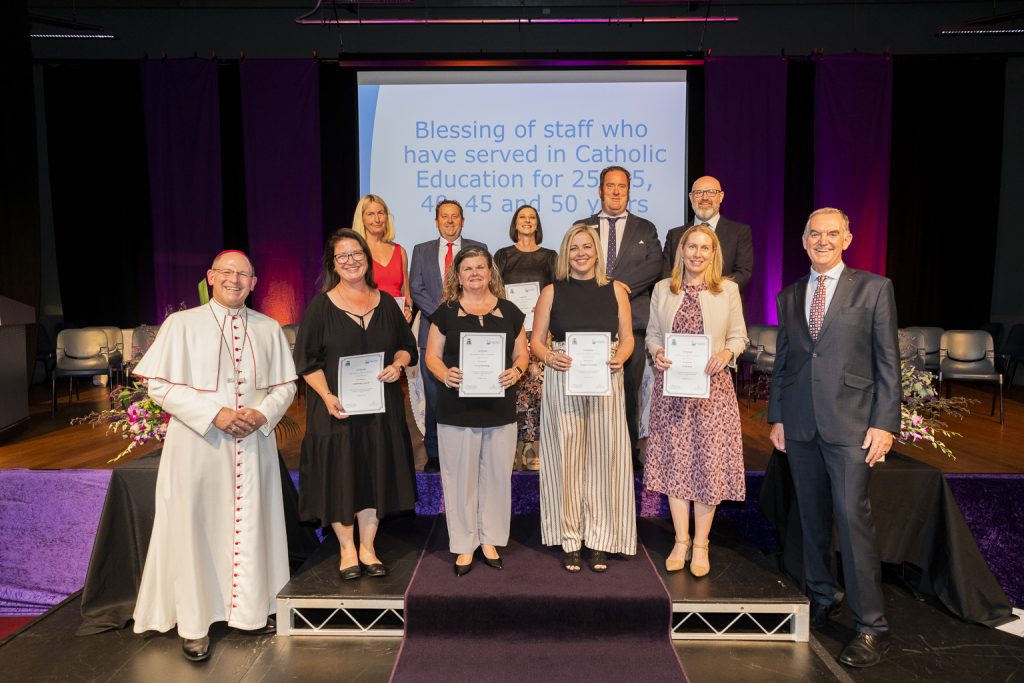 Adam Murdoch, St Brigid's Catholic College, Lake Munmorah
Anna Giunta, Mater Maria Catholic College, Warriewood
Ben Waters, Stella Maris College, Manly
Brenton Gurney, Catholic Schools Broken Bay, Pennant Hills
Brigitte O'Connell, St John the Apostle Catholic Primary School, Narraweena
Fleur Tichelaar, Stella Maris College, Manly
Frank Clarke, Mater Maria Catholic College, Warriewood
Katie Allport, Our Lady of the Rosary Catholic Primary School, The Entrance
Leanne Glassock, St Peter's Catholic College, Tuggerah
Liz Rath, St John the Apostle Catholic Primary School, Narraweena
Samantha French, St John Fisher Catholic Primary School, Tumbi Umbi
Tracy Hawkings, Our Lady of the Rosary Catholic Primary School, The Entrance
Trish Biok, Catholic Schools Broken Bay, Pennant Hills
35 years in Catholic Education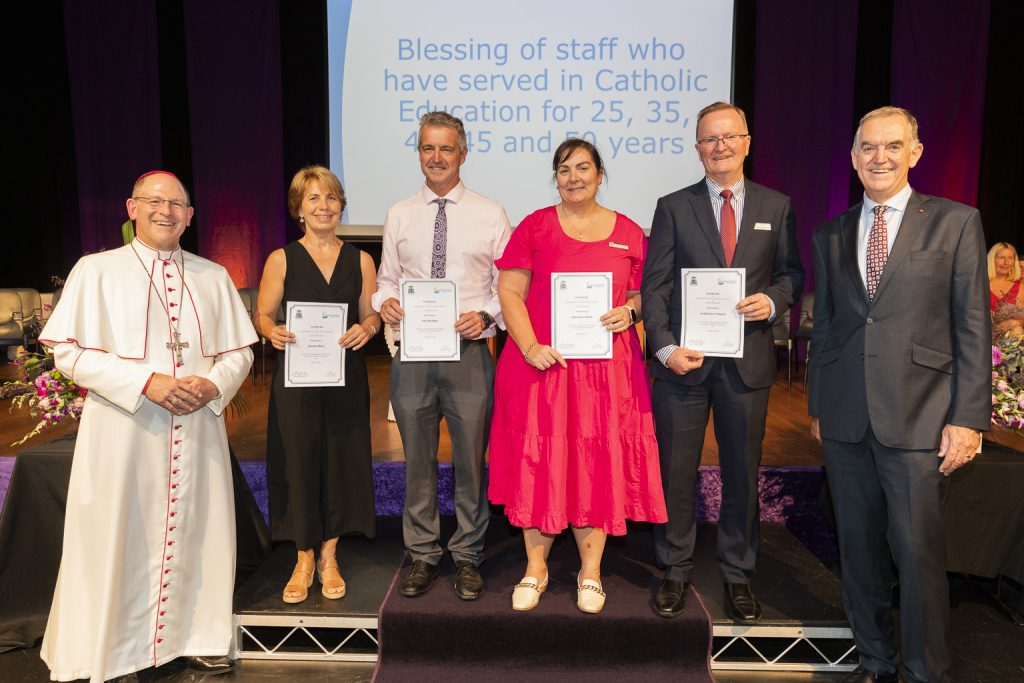 Annette Milne, St Cecilia's Catholic Primary School, Wyong
Julie-Anne Walsh, Mount St Benedict College, Pennant Hills
Paul Madigan, St Cecilia's Catholic Primary School, Wyong
Todd Vane-Tempest, St Patrick's Catholic Primary School, Asquith
40 years in Catholic Education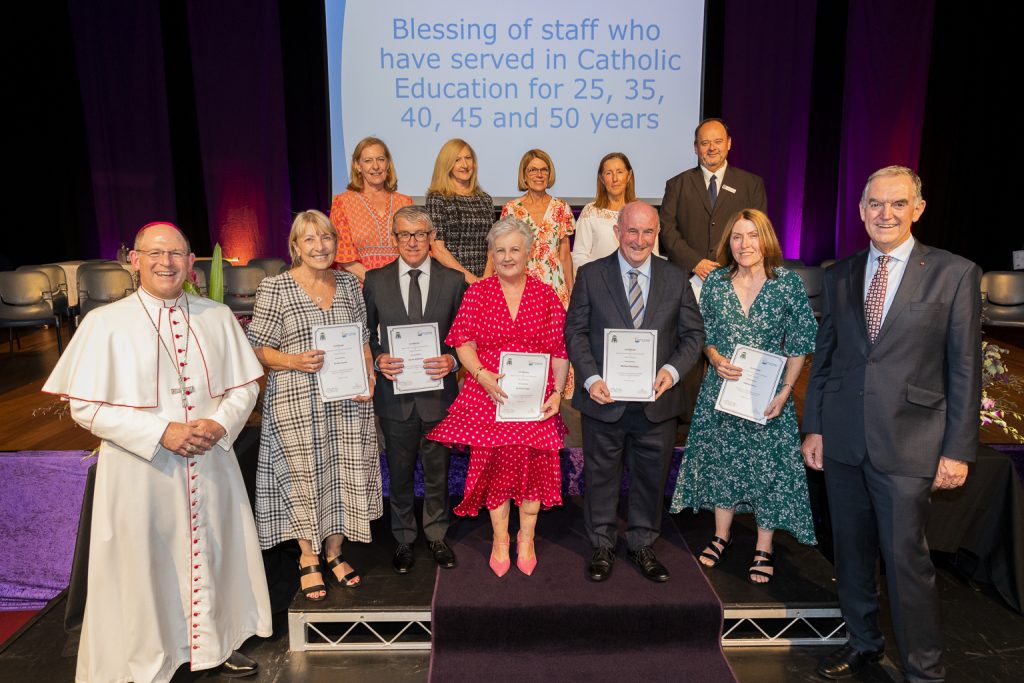 Anthony Gleeson, St Leo's Catholic College, Wahroonga
Gillian Evers, St Rose Catholic Primary School, Collaroy
Jacinta Crowe, Our Lady of the Rosary Catholic Primary School, Waitara
Janine Brown, St Rose Catholic Primary School, Collaroy
Jeannine Edwards, Our Lady of the Rosary Catholic Primary School, The Entrance
Julie-ann Thompson, Catholic Schools Broken Bay, Pennant Hills
Karen Blackwell, Our Lady of the Rosary Catholic Primary School, The Entrance
Kevin Williams, Catholic Schools Broken Bay, Pennant Hills
Louise O'Brien-Pounde, Prouille Catholic Primary School, Wahroonga
Lucille Elgood, Mount St Benedict College, Pennant Hills
Marcia Charles, Stella Maris College, Manly
Michael Hanratty, Mount St Benedict College, Pennant Hills
Sue Gahan, Our Lady Star of the Sea Catholic Primary School, Terrigal
Yvette Owens, Our Lady of the Rosary Catholic Primary School, The Entrance
45 years in Catholic Education
Debra Ferguson, MacKillop Catholic College, Warnervale
50 years in Catholic Education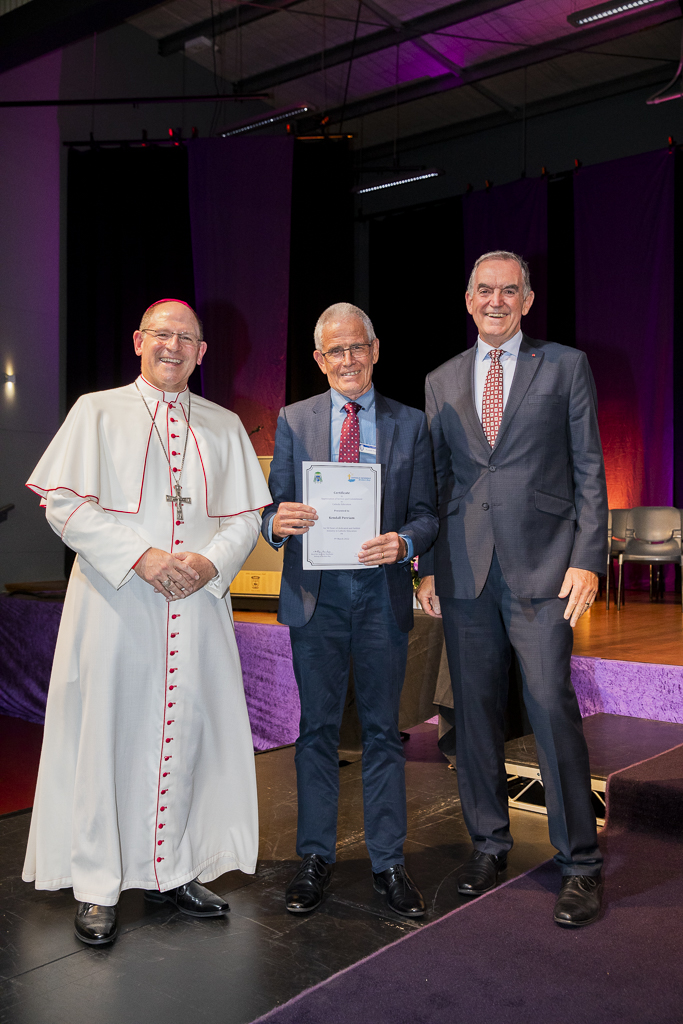 Kendall Perriam, St Joseph's Catholic College, East Gosford