Did you know that almost half of the people living in Australia were born overseas or have at least one parent who was born overseas? Tuesday 21 March is Harmony Day, this day is a wonderful opportunity to learn about different cultures and traditions, promote inclusivity, and celebrate the unique contributions that every person brings to our community.  
CSBB Enablement and Engagement team recognises the importance of this day, especially as it relates to our work supporting English as an Additional Language or Dialect (EALD) and LBOTE (Language Background other than English) learners. The theme for this year's Harmony Day is "Everyone Belongs," which reminds us that everyone has a place in our community, regardless of their background or experiences. 
We encourage everyone to participate in Harmony Day celebrations, whether it's by wearing orange or traditional cultural dress, attending a local event, or organising something special in your school. This is an opportunity to learn about different cultures, share your own experiences, and connect with people from all backgrounds. 
To make the most of this day, we've included some helpful links below that provide information and resources to help you learn more about Harmony Day and its significance. We hope you find these resources valuable, and we encourage you to share them with others! 
Harmony week – Everyone belongs 
Hello Harmony Day, 2023! – Modern Teaching Blog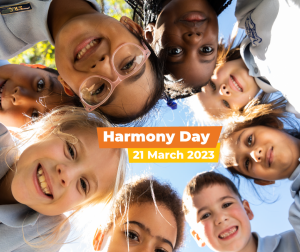 Let's come together and celebrate our community. Happy Harmony Day!