St Paul's Catholic College Manly
St Paul's is a comprehensive Year 7 to 12 College within Catholic Schools Broken Bay.
From 2025 St Paul's is offering co-education opportunities for Years 7 & 11 creating a clear K – 12 pathway for our communities in the Southern Peninsula of the Northern Beaches.
Applications are currently being accepted for Years 7 & 11 for commencement in 2025, limited availability for Year 7.
Enquiries and applications are now being accepted for 2026 and beyond.
For further information click on the links below.
Visit St Paul's website
ENROLMENT PROCESS 2023
First Round Offers – Term 2, Week 5-6
Current CSBB Primary students
Current (including 2024) siblings
Written offer will be sent for placement for Year 7, 2025
Written communications will be sent with invitation to book an Interview with School Principal. (Second Round)
Second Round Interview (Invitation) -Term 2, Week 8-9
Written communications will be sent with invitation to book an Interview with School Principal.
Offers and Waiting List – Term 2, Week 10
Written communications with offers and potential waiting list will be sent out.
For Further information please ENQUIRE HERE
To apply for 2025 and beyond please complete this APPLICATION FORM and return with required documentation.
Note: There is no testing of student ability linked to general enrolment at the College. This criteria aligns closely with CSBB enrolment guidelines.  Catholic Schools Broken Bay Enrolment Principles
What is the current St Paul's interest for 2025 enrolments?
Year 7 2025 – 144 applications to date with an additional 81 active enquiries. Offers for Year 7 2025 have been sent out and both male and female students have already been accepted.
Year 11 2025 – Expectations are that enrolments for Year 11 will build in 2024 as students / families make choices for Year 11 / 12. In saying that we have already had a number of enquiries and applications.
2024 enrolments – have also increased significantly both in response to the current work being undertaken at St Paul's, and in anticipation of the College moving to Co-education in 2025.
Year 7 2026 – We have already had over 65 applications and 88 active enquiries. 2026 applications will be reviewed this time (Term 2) next year.
What will be the ratio of boys to girls? 
The goal is to have a good ratio of girls and boys and as much as possible.
A balance of boys and girls in the initial years will be a priority over total enrolment numbers.
Is there likely to be a waiting list for enrolments in 2025? 
Based on current numbers of both applications and enquiries and our commitment to appropriate gender balance it is anticipated that there will be a waiting list in 2025.
Can girls join other Year groups or just Years 7 & 11? 
The school will slowly transition to co-education. CSBB is not presently considering enrolments in other Year groups in 2025.
If significant demand existed for other year groups in 2026 it may be considered.
How early do we need to apply for 2026 and beyond?
Applications are open for 2026. The application process will be activated this time next year for Year 7 2026.
Even younger students are welcome to apply, but there is no urgency at this stage.
Curriculum, Co-Curricular and Pathway Opportunities
What will be the structure of classes at St Paul's?
St Paul's will be a genuine co-ed school with co-educational classes across the curriculum.
Will subjects currently offered at St Paul's change? 
This will be part of the educational plan being developed in 2023 – the expectation is to increase subject selection offerings as the school grows and meets the needs of all students at the College.
Will music, languages and extension classes be offered? 
Music is already offered at St Paul's with a range of instrumental tutors engaged by the College.
Extension courses are currently running in Mathematics and English and are offered in conjunction with CSBB in a range of other courses.
What will be the sport offerings/pathways for girls at St Paul's?
Catholic Schools Broken Bay offer excellent opportunities for all of our students to participate in events across a range of sports. Our Secondary Schools are involved in twenty five inter school teams sporting championship events annually. Additions NSWCCC pathways exist for a further 24 sports.
These include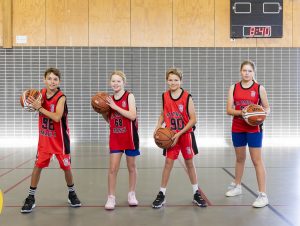 Australian Football
Golf
Cricket
Tennis
Swimming
League
Basketball
League
Netball
Cross Country
Rugby Sevens
Volleyball
Water polo
 Access to Sporting Academy / Program
Basketball Program /Academy currently operates at St Paul's
Potential for sports like soccer and touch for our girls and boys, into the future.
What Vocational Education Training offerings will be available to girls at St Pauls?
CSBB's Registered Training Organisation (RTO) students have a chance to gain valuable skills and qualifications by completing nationally recognised Australian Qualification Framework (AQF) courses in Vocational Education and Training (VET) whilst at school in Stages 5 and 6.
Students can access a range of VET Courses (Certificate I to III) qualifications.
Students can also participate in School Based Apprenticeships & Traineeships (SBATs) during Years 10-12.
Resourcing and Support
With girls being outnumbered initially, what processes will be in place to support students? 
The wellbeing of all students is a priority at St Paul's.
Quiet spaces will be created as an option to 'retreat' from the playground.
As our current cohorts are relatively small – girls will not be significantly outnumbered.
A balance of boys and girls across the school will be reached quickly.
Our current St Paul's students have a very good foundation of values, high expectations and will have access to Professional Development Programs in preparation.
What specific preventative and psycho-education programs do you expect to invest in to address … cultural shift from an all-male environment to co-education? 
Students at St Paul's engage with a number of programs that focus on respectful and healthy relationships. Additional options will be informed by
Co-ed schools already operating in our system
CSBB specialists
Our own wellbeing team
External expertise
How will staff professional learning support the initial introduction of girls to St Paul's? 
A draft plan for targeted Professional Development to support both staff and students will be planned through 2023, for implementation in 2024.
Respect for all people, including women and girls, is already a feature of the social and emotional learning at St Paul's. This will be supported by targeted programs and the input of internal and external expert facilitators.
We will leverage off the strengths of being a system of schools, with 6 existing high quality co-educational schools.
Staffing – When will teaching positions be advertised taking into account that there is a teacher shortage?
A workforce plan is being developed to specifically attract and retain high quality professional and suitably experienced educators to our Northern Beaches schools.
This a will begin this year, with most additional recruitment occurring in 2024 for 2025.
Will there be additional support for learner diversity?
CSBB already have great programs and resources in place to support all students. The strength of the system means we have a team of experts to support equity and diversity in all of our schools.
Parents of children with disability are encouraged to be actively involved in the consultation and collaboration process to determine the reasonable adjustments implemented across the school day.
Facilities and Transport
Access to playing spaces for year 7 boys and girls?
Year 7 students need a place / access to both quiet and active spaces (boys and girls). Designated spaces / times / days and architect concept designs will all support a sense of belonging and ownership of the spaces.
What transport options will there be for students coming from Narraweena, Davidson, Forestville?
CSBB are exploring and are engaging with large bus providers regarding the potential of running a designated St Paul's school bus route.
Improved safety and travel times with a direct coach to St Paul's.
Investigation is underway to look at providing an additional bus option (22-seater) to support local transport of students across Northern Beaches schools.
School Name and Uniform
Will the College's name change? Will this affect St Mary's, Manly?
Ultimately the decision rests with our Bishop, and consideration will be given to the history, culture and ethos of the school.
It is not anticipated that St Mary's will be affected.
Will there be a uniform change at St Paul's? 
A new uniform for girls will be introduced. Consultation with our current uniform supplier has begun.
If there is a name change there may be some changes to the boys' uniform.
If there is a uniform change it will be made in time to give parents fair notice. There will be a period of transition for older year groups.