Catholic Schools Broken Bay Students Unite to Create a World Youth Day Anthem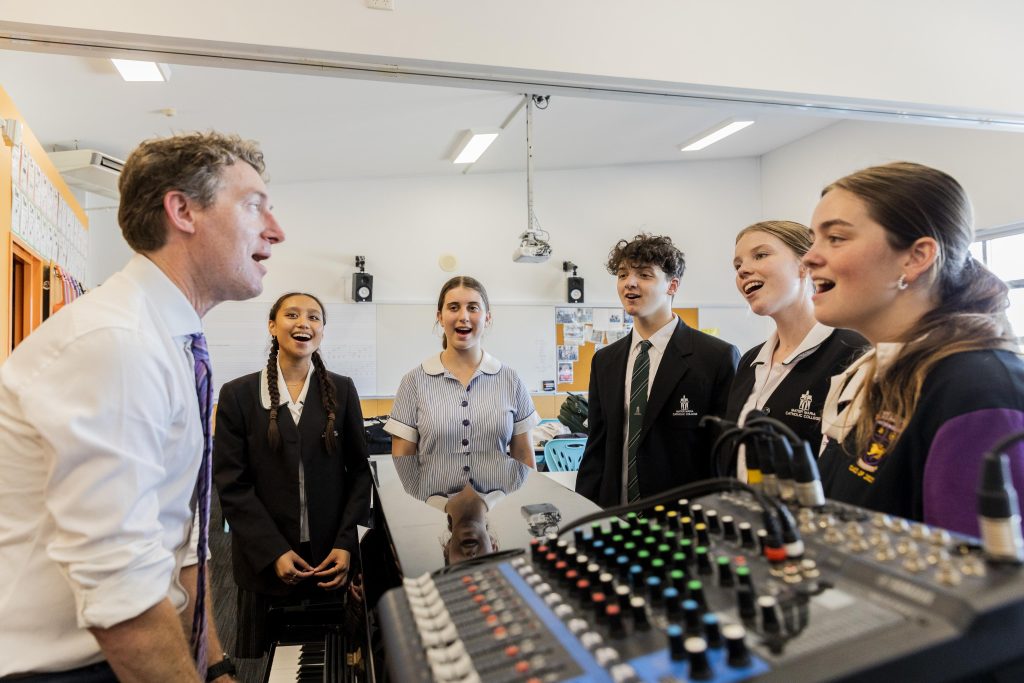 The Diocese of Broken Bay is buzzing with excitement as the countdown to World Youth Day draws near. In just 20 short weeks, pilgrims from the diocese will embark on a journey of a lifetime, singing a new song called "Magnify". The song capturing the spirit of the pilgrimage.
The song written by Simon Hyland was inspired by Luke's Gospel and the encounter between Mary and Elizabeth. Inspiring lyrics, based on the Magnificat and the hymn, reflect a repeated prayer of praise to God echoing Mary's words. The song's chorus, which speaks of fortifying, satisfying, crucifying, and unifying, takes shape as the students sing with passion and purpose.
Together with five very talented senior students from three schools in the diocese, they recorded "Magnify" under the direction of Simon Hyland (WYD Coordinator and Deputy Workstream Lead – Evangelisation) and record producer Phil Anqueti. Despite having no prior recording studio experience, the students' voices sound like seasoned professionals, blending beautifully in this inspiring song.
The whole production was a Broken Bay event, with contributions from a local musician and parishioner, Josh Willard, on the saxophone. Bishop Anthony Randazzo, who will lead around 170 pilgrims and leaders to Italy before joining other pilgrims from around the world and the Pope for WYD23 in Lisbon, Portugal, said, "The song is really inspiring. It captures the overall theme of WYD23 and showcases some great talent we have in the diocese amongst our leaders and our students. This will provide a wonderful connection for our pilgrims."
An experience for students, Annabelle from Year 12 at Mater Maria said; "It is a religious song but it also has elements of pop music. I got to work with some students from other schools as well. Everyone's voices sound quite different and yet when blended together it sounded beautiful. There was something special about Magnify. It's not just a generic song."
Mercy Catholic College Year 10 student Erica added;" We had to do multiple takes, make it sound like a choir. I definitely think it sounded great afterwards."
Broken Bay pilgrims will have a lot to sing about when they fly out at the end of July, as they embark on their journey with a new song in their hearts, ready to magnify and glorify the Lord. This inspiring story shows how faith, talent, and passion can come together to create something truly beautiful and meaningful, touching the hearts of many and inspiring them to deepen their faith and encounter Jesus in a new way.
Magnify (Magnificat) is also available on Apple music, Itunes, Amazon and Spotify.
To download the song from spotify click here
Original article – Broken Bay Talent Magnified in New WYD Song