Southern Peninsula Precinct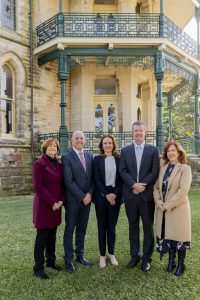 Catholic Schools Broken Bay Principals
Louise O'Brien – St Cecilia's Balgowlah,
Michael Reid – St Paul's Manly,
Alicia van der Merwe – St John the Baptist Freshwater,
Paul McGuire – St Mary's Manly,
Anna Marsella – St Kieran's Manly Vale.
Earlier this year families of Catholic Schools Broken Bay (CSBB) parents and carers, prospective families and the wider community were invited to an Information Session which was held at St Paul's Catholic College, Manly.
The evening was presented by our Leaders of our CSBB schools in Southern Peninsula Precinct St Pauls and St Mary's – Manly, St Johns the Baptist – Freshwater, St Cecilia's – Balgowlah, St Kieran's – Manly Vale and supported by the CSBB Project Team.
From the evening we collated information and responses to common questions and themes. We continue to update this page as we move forward.
Enquire here about any of our schools.
Background to Northern Beaches Southern Peninsula Precinct Review
Review of the Northern Beaches was announced March 2022
Detailed community engagement process was activated June – August 2022
Research, analysis and themes from the engagement were identified October 2022
Endorsement and announcement of the recommendations December 2022
2023 – We are now 6 months into a multi-year plan to deliver on the recommendations
Which schools form the Southern Peninsula Precinct?
St Paul's Manly
St Mary's Manly
St Kieran's Manly Vale
St Cecilia's Balgowlah
St John the Baptist Freshwater
Catholic Schools Broken Bay (CSBB) is part of a system of schools and opportunities to engage with other neighbouring CSBB schools (Forestville, Davidson, Narraweena, Dee Why, Collaroy) will be strengthened as we progress the work and opportunities for students. We provide Catholic Education for all families, not education for Catholics. All families are welcome to be part of CSBB.
 What is the vision for the schools and the region?
Deliver authentic professional Catholic Education with care and compassion. Inspire hearts and minds to know Christ, love learning and be the best they can be.
Every student can flourish in a faith-based learning environment, and embrace values of faith, joy, witness, courage, and compassion.
A relentless focus on learning improvement for every student, delivered by dedicated, professional and passionate teaching staff.
Future focused, and innovative initiatives to meet the needs of our families.
Creation of improved contemporary facilities and enhanced learning experiences that all students from all schools can benefit from.
A clear Pre-12 pathway and retention for all students and families in the region.
A community of schools who share resources, best practice and schools within the precinct that can also specialise. Opportunities to learn from and with each other.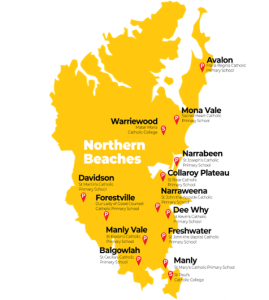 How are we improving academic achievement?
CSBB Towards 2025 Strategy
Explicit focus on the growth of every student
Investing in collaborative planning for all staff
Investing in coaching for all staff
A culture of continuous improvement as a system, schools, staff and our students
Which sites are being considered for Pre-Schools / Early Years education?
–  St Martin's Davidson
–  St John the Baptist Freshwater
–  St Kieran's Manly Vale
An external research company has prepared a detailed demographic and competitor analysis report.
The team has completed site visits at each of the 3 sites, and information has been provided to a joint architect briefing.
This research information and site plans will be used to discern the feasibility and potential timelines for each site.
Discernment will lead to business and education plans for potential sites. This will lead to architectural concepts and costings. Further details about the plans for the sites and timelines will be available later in the year.
Increased opportunities / facilities in Sport
CSBB is currently working with architects to explore potential indoor and outdoor sporting facilities in the region – contemporary multi-purpose spaces for learning, sport and building community for students in all CSBB Schools, especially on the Northern Beaches.
As announced in March 2023 – CSBB Primary carnivals and subsequent representative pathways and teams will be exclusive to CSBB schools. This gives additional representative opportunities for our primary students.
Leadership Structure across the Southern Peninsula Precinct
CSBB is committed to supporting our local school leaders (Principals) in building the Precinct of Schools in the Southern Peninsula of the Northern Beaches and deliver the vision, recommendations and future focused initiatives.
The Southern Peninsula precinct allows us to add to and re-imagine how we best serve our students, parents and teachers.
Facilities / Investment / Sites
Our school size and growth.
In 2022 Catholic Schools Broken Bay schools (a system of 45 Schools) had the strongest enrolment growth across NSW in the Catholic Sector.
The goal is for all our schools in the region to grow. Well balanced schools who know and value every student.
We have seen a strong response to our commitment to strengthen and enhance our schools in the Northern Beaches and the enquiries and applications at many of our schools in the region have increased for 2024.
When will changes/investment in school sites begin?
The investment into our schools and facilities is part of a Multi–Year Plan. A panel of architects were briefed (opportunities, challenges and the vision for each site) and tendered.
We are excited to announce that plans have progressed and architects have now been engaged to develop concept plans for each of the 4 schools in the CSBB Northern Beaches Precinct:

Gardner Wetherill – St Paul's Manly
SARM Architects – St Mary's Manly, St John the Baptist Freshwater & St Kieran's Manly Vale
What are the timelines and priorities for building works?
High level concept, architectural plans and costings will be completed by the end of September this year and then reviewed.
Initial changes / enhancements / amenities (toilets and changerooms) are a priority in 2024 for St Paul's.
Master plans will be developed for all sites, and these will give direction for future investment.
Will there be an impact on current students in 2023 / 2024?
There should be minimal disruption to the students over 2023 and 2024. It is expected that some improvements and minor building works may be conducted in the school during 2024.
Where is the money coming from and will it impact on school fees? 
CSBB is committed to investing in our schools for the future. There are no plans to increase fees beyond the normal annually reviewed adjustments that are influenced by changes to running costs and government funding.
CSBB schools are low fee-paying systemic schools, which are at a considerably less than the Catholic independent schools in the region.
Parking Considerations
Traffic flow, including parking, student pick up and drop off are all factored into architectural concepts, and programs for builds.
STAGE 3 LEARNING HUB
Improving the stage 3 learning experience for all students in our precinct schools.
There are 3 main elements,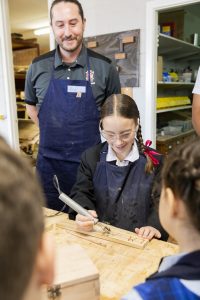 Physical elements
Pedagogy
Experience
Physical elements
The physical environment can really be thought of being the third teacher.
The CSBB Project team have been engaging with experts, researching and exploring what could be possible.
Pedagogy
Variety of learning delivery
Contemporary and personalised
Engaging young adolescents
Assessment for learning
STEM and other project-based engagements along with specific literacy and numeracy instruction
Connection with Stage 4
Experience
Students and teachers work in collaboration with subject specialists.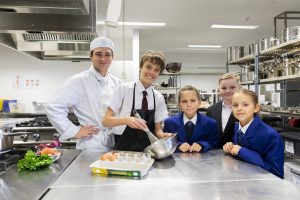 Secondary teachers
Resident artists
Royal Life Saving
Environmental officers
National Parks
University connections
Clergy
How will all Northern Beaches school's benefit from the Stage 3 Learning Hub into the future?
A hub brings students and teachers across our CSBB schools together to learn and grow.
New build elements will influence the way existing classrooms may operate in a modified manner into the future.
Teachers across the Northern Beaches schools will have more opportunity to work with each other and learn from each other as to the contemporary ways to engage students with their learning.